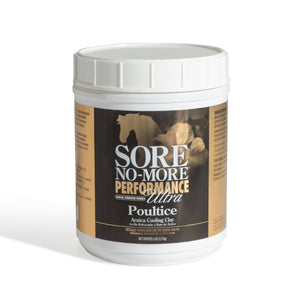 Sore No-More Performance Ultra Poultice
Sore No-More® Performance Ultra Poultice
Sore No-More® Performance Ultra Poultice is a high-grade clay poultice that is easy to apply and remove. Made with specially formulated bentonite clay, it provides cooling that is easily washed off without scraping or scratching. This effective and concentrated form is silky smooth and is great for applying to areas of swelling or edema or to use as a hoof pack. Formulated without lobelia and free of capsaicin, it can be used while competing at even the highest FEI level. Its invigorating ginger scent will stimulate the senses and keep your horse smelling good.
Features:
Silky smooth and non-irritating
Easily applied and washed off
For issues such as edema, swelling, heat, inflammation, and infection
Great for sensitive skinned animals
Can be used as a cooling hoof pack
Ginger scented
Item Specifications:
Ingredients:
Bentonite (Bowie Type Clay) and a proprietary extract of witch hazel bark and leaves with the following common herbs: Arnica (Arnica montana), Rosemary (Rosmarinus officinalis), Ginger (Zingiber officinale), Comfrey (Symphytum officinale) and Sodium Borate (as a preservative). No added Capsaicin or Lobelia.
Directions for Use:
Apply a thin layer directly to surface of leg. Use with or without paper or plastic (plastic increases heat exchange). Washes off easily.
Apply directly to hoof. Use several times a week or before and after shoeing to increase moisture to ensure a soft, pliable, resilient sole, frog and hoof wall.