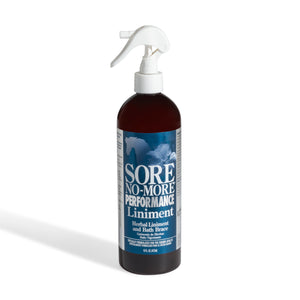 Sore No-More Performance Liniment
Ingredients
Proprietary extract of witch hazel bark and leaves with the following common herbs: arnica (Arnica montana), rosemary (Rosmarinus officinalis), lavender (Lavendula officinalis), and comfrey (Symphytum officinale).
Useful Information
Shake well before using.

Use on lower and upper limbs.

Apply to directly to skin and massage prior and after exercise on the back, legs, poll, or hocks.

Paint directly on sole of sore hooves.

To use as a bath brace add a ½ oz. to 1 oz. per gallon of water. Liniment may also be applied to area and a wet, warm towel placed over liniment application to get the same effect.

Safe to use under, tack, wraps, blankets and under therapeutics like Benefab by Sore No-More.